20ft Tribe Dual Lane Water Slide
Overview
(1), Product Structure:
Every product is made of PVC tarpaulin and inside is with PVC liner (Oxford/Nylon is bad quality). We used these kinds of PVC below: 23oz waterproof PVC, 18oz marble shiny PVC, 15oz shiny PVC, 13oz shiny PVC, 8oz PVC and special 0.45mm PVC for printing, PVC liner=13oz PVC thickness As usual, each product is made of 18oz or 15oz PVC and 13oz PVC together. Sometimes if it is some small decorations, such as leaf, parrot etc, they it is made by 8oz PVC, soft but strong. Notice 8oz PVC is more expensive than 13oz PVC. And there is customer prefer all 15oz, then it is also OK. But all 15oz products price is expensive than the 15oz + 13oz or 18oz +13oz.
And we mentioned the special 0.45mm PVC above, which is used for printing. So after it is printed, it is around 15oz thickness. And some other suppliers used 13oz(0,4mm) PVC for printing, which is cheaper and quality is not good(easy fade).
(2), Product Accessory:
Sew: 9 strand wire(=0.03inch thickness), double stitching
D Ring: Stainless Steel 304
Zipper: YKK brand
Velcro: Grade A
Ribbon: Great quality
Blower: Huawei Brand
Notice: all these different quality accessory will make the products prices different.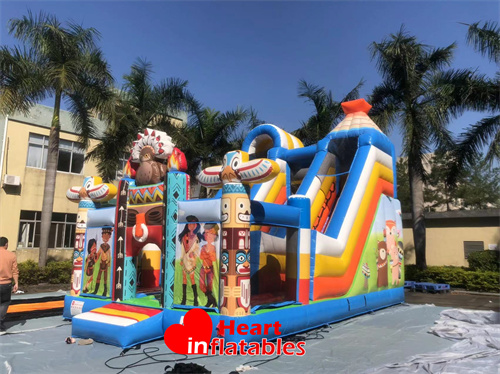 Obstacle Course
Climb holes with 1 more piece of velcro cover for better protection.
If obstacle course is 2+ parts, it is connected by 4 layers of velcro and eyelets.