For thrill-seekers and adventure enthusiasts, nothing beats the excitement of scaling heights and conquering vertical challenges. Rock climbing, bouldering, and mountaineering are popular activities that test a person's physical and mental stamina. However, only some have access to natural rock formations or indoor climbing gyms. Moreover, climbing can be a risky activity, especially for beginners or those without proper training or equipment. That's where inflatable climbing walls come in – they offer a safe and fun way to experience the thrill of climbing, without the hazards of traditional methods. The focus of this article is Inflatable Climbing Wall.
What is an Inflatable Climbing Wall?
An inflatable climbing wall is a portable and lightweight structure that mimics the surface and obstacles of a natural rock face. It is made of sturdy, PVC-coated nylon or vinyl material that can withstand heavy use and weather elements. The wall is inflated using an air blower, which fills the chambers and creates a rigid and stable structure. The climbing surface is textured and features hand and foot grips, holds, and panels of varying shapes and sizes. The wall can be designed to cater to different skill levels, from beginners to advanced climbers, and can be customized with themes, logos, and colors.
Advantages of Inflatable Climbing Walls
Inflatable climbing walls have several advantages over other forms of climbing or recreational activities.
Safe:
Inflatable climbing walls are designed with safety in mind. They have a soft and bouncy surface that cushions fall and reduce impact injuries. They also have safety harnesses and ropes that ensure climbers are securely fastened and protected from falls.
Portable:
Inflatable climbing walls are highly portable and can be easily transported to different locations. They can be set up indoors or outdoors, in parks, schools, events, or private properties. They also take up less space than traditional climbing gyms, making them ideal for smaller venues.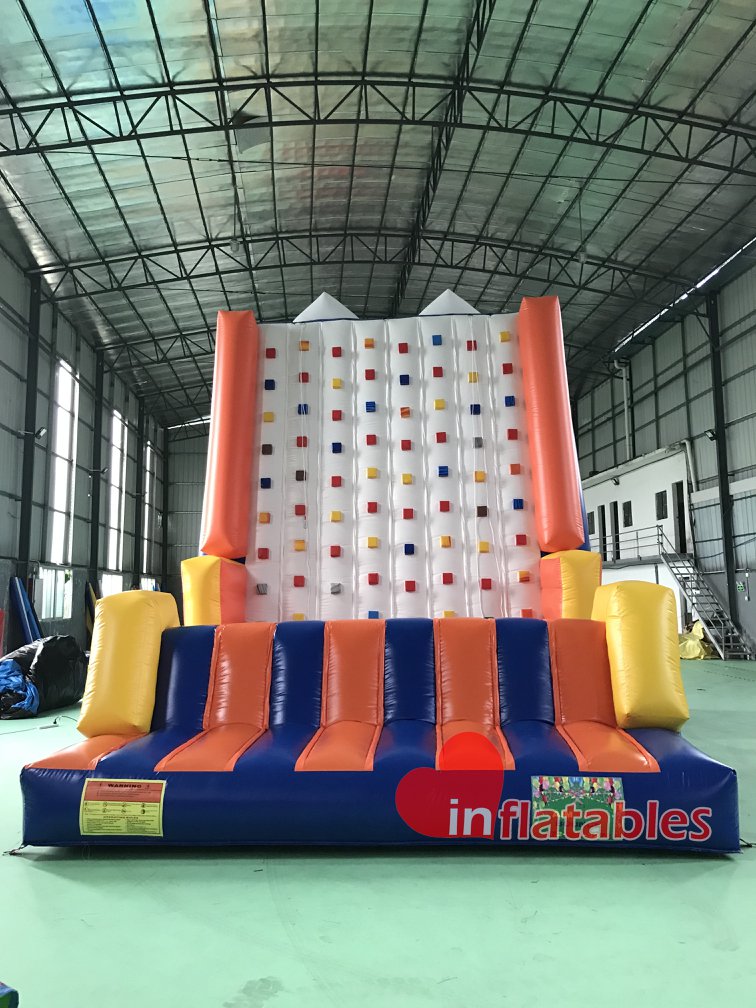 Affordable:
Inflatable climbing walls are a cost-effective way to offer climbing experiences to a wider audience. They require less investment in infrastructure, staff, and maintenance than traditional climbing gyms. They also have a lower risk of liability and insurance costs, as they are less prone to accidents or injuries.
Fun:
Inflatable climbing walls are a fun and engaging activity for people of all ages and skill levels. They provide a sense of achievement and adrenaline rush that can boost confidence and self-esteem. They also offer a social and interactive experience, as climbers can cheer each other on and share tips and techniques.
Choose to add the inflatable interactive games to your rental list; it will take your business to next level. Players can get more fun and interactions which is suitable for team building.
Best Supplier of Inflatables
We (Heart Inflatables) provide good quality and honest prices products. You can get products according to your requirements. All of our slide's height is like the USA factory's standard. We strive to make the best and insist on providing customers with one-stop solutions and better inflatable products