Children's entertainment options and time today are limited, and they spend more time playing on mobile devices and other electronic devices. Compared to playing on mobile devices and other technological devices for extended periods of time, playing on bouncy castles has several benefits.
Heart Inflatable is a professional manufacturer and supplier of inflatable products. We manufacture inflatable bouncy castles in various designs and shapes. Unicorn Bouncy Castle is one of our best bouncy inflatables.
Benefits
Bouncy castles are an excellent way to keep children entertained. They get lots of exercises and fresh air from it. And as we all know, the best medicine is laughing. People laugh out loud at the sound of people leaping. Kids cherish this enjoyable time for years to come. It lowers stress and increases blood circulation. This strengthens the immune system, aiding in the defense against illnesses and infections. According to research on terminally ill patients, people who could laugh survived longer. This could be a result of their continued optimism. Laughter is a natural mood enhancer and pain reliever. Additionally, it links us to one another and keeps us grounded.
Improves Imagination
Bouncy castles are an ideal way to get kids together and let them burn off some energy. These inflatables provide countless opportunities for creativity and inspiration. They may be used by kids to play at being pirates, princesses, or even a spaceship in zero gravity! It is a fantastic way to relieve tension and break up the routine of school! People can deal with stressful situations better by playing on bouncy castles, and children who can smile at their own blunders are more likely to have a stronger resistance to psychiatric conditions as they become older. Children who are able to laugh at their mistakes are more likely to understand that mistakes are common and that no one is perfect. Therefore, everyone benefits from any action that makes people laugh.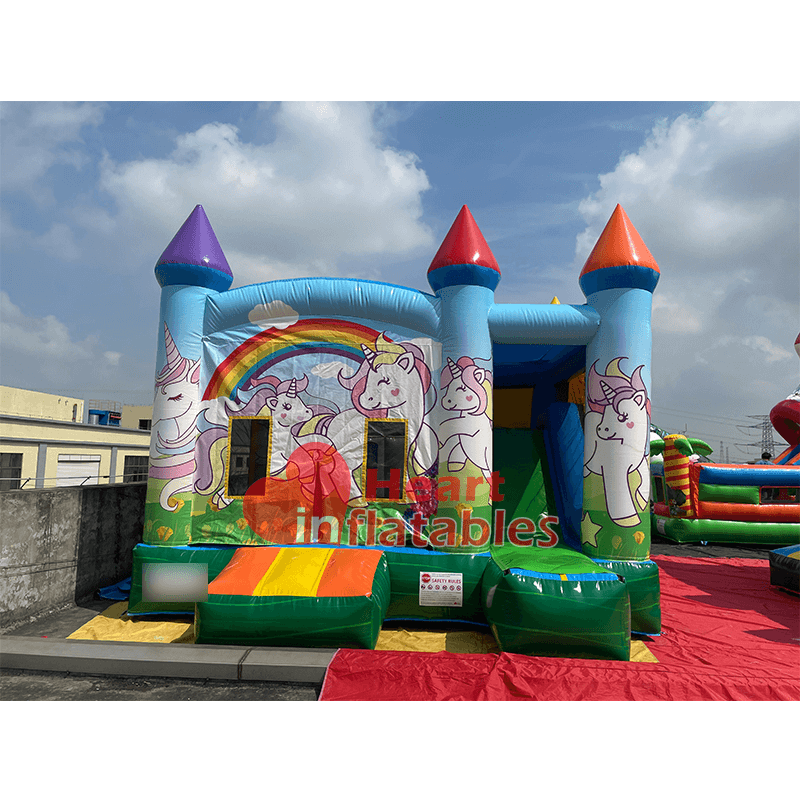 Intellectual development
They promote resilience and stress reduction, both of which are crucial for children's development. They also get a sense of humor, which is essential for their social and intellectual growth. It is the duty of parents to help their kids cultivate this quality.
Children learn more quickly while they are playing.
Additionally, it encourages kids to communicate and engage with one another. Better learning and overall well-being are the outcomes. Children will feel more at ease and prepared to converse and answer questions while they are having fun and playing together.
Why choose us?
We(Heart Inflatables) provide good quality and honest prices products. You can get products according to your requirements. All of our slide's height is like the USA factory's standard. We strive to make the best and insist on providing customers with one-stop solutions and better inflatable products.