Lego Combo Water Slide Bouncy 9mLx4mWx4mH
Overview
(1), Product Structure:
Every product is made of PVC tarpaulin and inside is with PVC liner (Oxford/Nylon is bad quality). We used these kinds of PVC below: 23oz waterproof PVC, 18oz marble shiny PVC, 15oz shiny PVC, 13oz shiny PVC, 8oz PVC and special 0.45mm PVC for printing, PVC liner=13oz PVC thickness As usual, each product is made of 18oz or 15oz PVC and 13oz PVC together. Sometimes if it is some small decorations, such as leaf, parrot etc, they it is made by 8oz PVC, soft but strong. Notice 8oz PVC is more expensive than 13oz PVC. And there is customer prefer all 15oz, then it is also OK. But all 15oz products price is expensive than the 15oz + 13oz or 18oz +13oz.
And we mentioned the special 0.45mm PVC above, which is used for printing. So after it is printed, it is around 15oz thickness. And some other suppliers used 13oz(0,4mm) PVC for printing, which is cheaper and quality is not good(easy fade).
(2), Product Accessory:
Sew: 9 strand wire(=0.03inch thickness), double stitching
D Ring: Stainless Steel 304
Zipper: YKK brand
Velcro: Grade A
Ribbon: Great quality
Blower: Huawei Brand
Notice: all these different quality accessory will make the products prices different.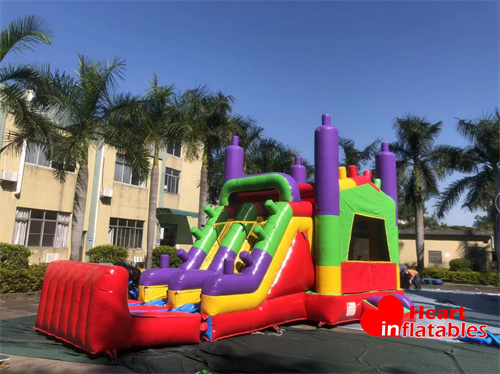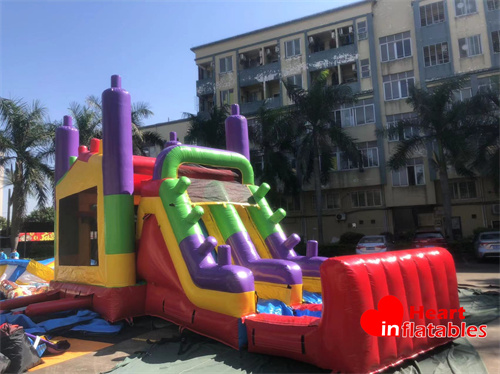 Bounce House
Step entrance: If it small step entrance(32inch), then it is additional size and for free.
But if it is a big step close to real width, then it need to be included the size.
Basketball hoop & Pop up: Regular standard bounce is with basketball hoop inside, special design is without.
And pop up is not provided normally, but if you need it, we can make them with
printing to match the product theme inside.
Netting/Zipper for closed: There is a netting with ropes for close the entrance to provent the kid from falling
out. If it is a zipper, then it is OK to be closed easily.
Reinforced Straps: All of the PVC connected by the reinforced strap, it is 4 layers stitching inside to
make the connection better and stronger. BTW, each connection is with 1 pcs of
PVC Liner inside, same as the explain above.
Bottom Bed & Platform Height: We make the bottom bed 47.5cmH according to our PVC material width(206cm), it
divided into 4pcs, each piece is 51.5cm, after it is folded and fixed 2cm each side, so it is 47.5cm fianlly.
BTW: USA customers perfer higher bottom, so we will make it 68cm(divided into 3pcs) height. Price is also a little higher but we will keep it same price. And wet dry combo, the platform height of slide is also higher for more funny. It is also a little expensive to do it in this way.
Escape Marker: There is a zipper on roof cover for escape in your need it to put there.
Bounce Slide & Combo
Pool/Stopper: As usual, we make the pool/stopper connected in 1 piece. But if customer prefer the detachable pool/stopper, we can make it according to your request.
PS: If it is for water use, we will also make the water hook at side wall.