A bouncy castle is an inflatable toy that kids play with. They usually come in different themes and make children feel special. Some bouncy castles even have slides and other games.
Bounce castles help children develop their quick response skills. They also improve their balance, a skill that they will need in everyday life.
It is a form of exercise
Children need a lot of exercise to stay healthy, and hiring a bouncy castle is one of the best ways to get them that. It will tire them out in no time, and they'll be ready for bed with no fuss.
Bouncing in a bouncy castle will improve your child's coordination and balance, as well as their overall motor skills. It will also increase blood flow to their brain, helping them concentrate and focus. The bouncing motion will also strengthen their leg muscles.
Children are also able to socialize with other kids while playing in a bouncy castle. This is a great way to break the ice with shy children and encourage them to make friends. It will help them develop a sense of community, which is important in life. Moreover, it will help them create moments of happiness that they will cherish for the rest of their lives.
It is fun
Inflatable castles are a staple at children's parties and public events. However, they can pose serious safety risks if not properly anchored and maintained. This is especially important for inflatables with a steep gradient or those located near rubbish bins and walls. In addition, the area should be fenced off to ensure children can't reach objects that could cause damage or trip hazards. Also, if the castle is to be used on concrete or indoors then extra safety mats should be placed at the entrance and exit points.
Inflatable castles are often made of a durable, thick PVC material that is inflated by an electric or gasoline powered fan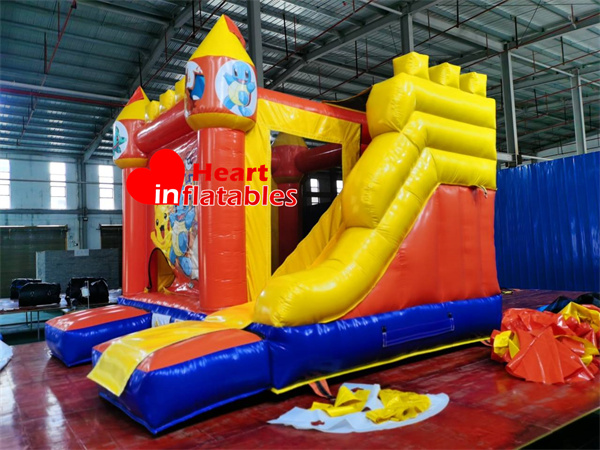 . Inflatable castles are generally safer than traditional play structures as they are designed to collapse when damaged rather than explode. This type of structure is also designed to prevent children from climbing inside and hurting themselves. Inflatable castles are also more fun because they have a wide range of obstacles and challenges that children love to tackle.
It is educational
A bouncy castle is an excellent way to entertain kids at parties and special occasions. Children can spend hours in the castle, running, jumping and playing with their friends. This helps them to relax and relieve stress. It also provides them with the level of physical exercise they need to stay healthy.
The inflatable bouncy castles are available in many different themes, including princess, dinosaurs, jungle, pirate ship, birthday cake and robot. They are designed in bright colors that appeal to kids and are made of strong materials. These structures are great for kids of all ages, including adults.
Generally, a bouncy castle is made of a strong PVC or nylon material and is inflated with an electric fan. It features a doorway and openings on all sides, and is protected with foam "crash mats" to prevent injuries if children fall out of the structure while bouncing. In addition, most bouncy castles feature anchoring ropes to keep the structure in place.
It is safe
Inflatable castles, or bouncy houses, are fun and safe for kids. The surfaces of these structures are made of thick PVC or nylon and inflated with an electric fan. They also feature foam "crash mats" to catch kids who fall off the castle walls.
Although the use of bouncy castles is common, they can cause injuries if not properly anchored to the ground and supervised at all times. Inflatables are particularly dangerous when they are overcrowded. It is advisable to separate children by age and weight so that the structure does not become overcrowded.
It is also important to make sure that the bouncy castle is situated away from sources of fire and electricity, and that the blower remains connected to a continuous power supply. In addition, attendants should not place toys near the bounce house, and cords should be placed away from the site to avoid tripping hazards. Lastly, it is important to check the castle regularly for any signs of damage or wear and tear.